Subaru Firewall Repairs | The repair of the actual failed welds on the Subaru firewall is a simple process...
... of drilling, bolting, adding structural / weatherproof adhesive to maintain a weather seal and lining up all parts to OEM specs.
The difficult part is accessing the spot welds that need to be repaired. there are a lot of parts in the way of doing it right.
This is true of many repairs on today's complex and compact vehicles. They pack a lot of technology in a small area.

We recently had a 2009 Subaru WRX in the shop for this repair process. The customer had been on the fence about paying a shop to do the repair or doing it himself at home.
About halfway through the repair, we brought the customer back into the shop to look at his vehicle.
He was astonished by how much the vehicle was taken apart. The only thing left in the driver's position was the gauges. No steering wheel, air bag, column, pedals, wires or computers.
Everything has to be removed to access the damaged areas. Once the damaged spot welds are accessed, the pedal assembly mounting bracket can be re-aligned and re-attached to the firewall. Spreading the load and using high strength adhesive makes for a strong repair. He was very glad he didn't attempt the repair at home.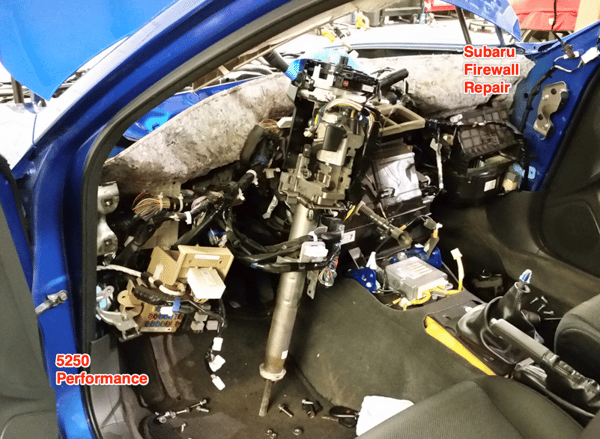 There are several vehicle systems that must be removed or disabled during the repair, such as the Air Bag and Vehicle Security systems.
Making a mistake while working with these two systems can lead to a vehicle that won't start, or an airbag being deployed to your face, which can kill you. If you are not intimately familiar with these systems, leave it to the pros.
Creating a stronger firewall for high performance clutch engagement and lasting value.
Our proven process is what Subaru should have done from the beginning with their high performance cars. So, here we are and the factory dealerships are not doing the job, so we at 5250 have improved on what is necessary.
We have repaired 50+ vehicles and the results speak for themselves. It works and it lasts.
Here are the 5 reasons that a stronger firewall will help your performance Subaru down the road:

1. Better gear engagement (upshifting / downshifting). No grinding. Easier to get into Reverse.
2. No creaking or clicking noises in cabin when using the clutch, it works like it should.
3. Better clutch engagement. Easier, smoother starts from a stop.
4. Full disengagement of the clutch extends clutch life
5. No anxiety over a future failure

The reason for doing it right is obvious, don't wait for your squeaky firewall to damage everything connected to it, if it is squeaking, it is trying to tell you to get it repaired ASAP.

Fix at the first signs of problems, or it gets worse and more expensive.

Diagnose the issue quick and don't debate if it's a DIY or not. The procedure involves working with the vehicle safety and control systems. A mistake could lead to improper safety systems, do not take that chance.