Mustang AWD 150 | Taking Performance Shop services to a higher level
Dyno Tuning Help | Getting a baseline is easy, getting more power from a proper tune is the next step.
Or is it? The big question. The value of a dyno sheet can provide much information of where you are at with your vehicle and pinpoint areas beyond just numbers. Is your clutch up to more, is it stressed to the limit? From intake to power to the wheels, every component is affected, be prepared and be safe.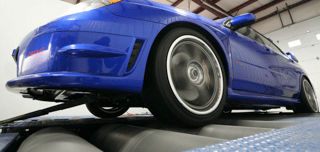 Our Shop Labor rate is $120.00 per hour. We can provide you many services, such as basic maintenance on your performance vehicle, Diagnostics, installation of Turbo & Supercharger systems, brake systems, suspension installation and set up, and most performance modifications. The key here is your expectations. We do not do mediocre work to increase performance. If you are looking for the cheapest deal then we are not the shop for you.
We also have an experienced Stainless, Aluminum, and Mild Steel Welding capabilities, both MIG and TIG processes. An appointment is required for these services.
**Prices below do not include chips, software, parts, diagnosis or repairs.
Baseline - 3 power pulls HP and TQ only - $100
Add Air to Fuel Ratio and boost monitoring to Baseline + $35
Hourly Rental using a 5250 Operator - $165 for first 2 hours, then $115 for each hour after.
Dyno time is measured from when the car drives up onto the ramps until it touches asphalt in the parking lot again.
Please note: If a vehicle is leaking fluids or is excessively dirty, it may not be allowed on the dyno until it is cleaned or repairs made. If a vehicle has a loss of fluids or causes any significant mess to the dyno or testing chamber, a clean-up fee of up to $350 may be charged. Any damage that is caused to the dyno or testing chamber by a vehicle will be the responsibility of the customer. No exceptions.

Leaded fuels and methanol can damage Oxygen Sensors. The purchase of a new sensor for the dyno will be required if the test vehicle is using either of these fuels while having AFR measured by the dyno.
Do you have your own tuner? We have our in-house Tuner and different Tuners to choose from.

Tuners use many different methods based on the system you have to re-program your ecu. Some of these include; Cobb Accessport, Diablosport, EFI Live, ECUTek, HP Tuners, Opensouce, etc, as well as standalone systems such as AEM, Haltech, Motec, and FAST.

If you want to use your own tuner, please let us know you'll be bringing them.
Remember:
Before you even sign up for a baseline or tuning session there are things that should be addressed on your vehicle. Below is a list of recommendations you should look at to make your dyno session a positive experience:
Make sure that your tires are in proper working condition, the dyno can be hard on tires as repeated dyno pulls are needed.

Check all the fluids in the car and if there is a leak and / or there is a over heat issue, be sure to take care of it before the session.

Inspect that the oil is at a good level before the session and that the filters (air & fuel) are in good shape.

It is a good idea to inspect the spark plugs and wires and if needed replace them for a new set.

Please be conscious of the fact that an old clutch could fail in a baseline/tuning session. If the clutch fails, session will be over.

On turbo systems, if we / you are tuning a turbo system, make sure all pipes are properly secured so they do not blow off during the tuning session.
If you are coming in for a tuning session, here are some things to consider:
Please bring your own tools if you are self tuning your vehicle, the shop is not responsible for supplying tools.




If you are changing from pump gas to E85 / race gas during the session, make sure that you tell the dyno operator ahead of time, and bring your own fuel. (We have an E85 station across the street)

If your vehicle spills excessive fluids on the shop floor, you may be charged a clean up fee.
If any damage occurs to the dyno, the shop, shop's equipment, or any person caused by your vehicle it is your responsibility.

Lastly the dyno operator will always be driving the vehicle and operating the dyno controls.

Customers must be outside the dyno room when in session for their safety. Viewing area is outside the dyno room.