Building Forced Induction in Colorado | To make power, you need airflow.
The more air you can get into an engine, the more fuel you can match with it and the bigger the boom.
A turbo or supercharged engine gets its power from the compression of air. The larger the blower, the more compressed air, the more power.
It's really that simple.

So if you want big power, just slap a big blower on and go! That's what forums want you to believe.
Well, it's almost that easy. There are those supporting modifications, like making sure the engine can hold the power the blower puts out. Superchargers are easier, get the biggest one you can afford the supporting mods for. Turbos need a bit more planning and execution.

Since a turbo is not directly linked to engine speed, they have lag. Lag is the time is takes for the turbo to build boost pressure. As a general guideline, a larger turbo will take longer to build pressure than a smaller turbo. On a race car, lag is usually not a major concern since the engine will spend most of its time at higher revs, where lag is at a minimum.
A street car spends most of its time at lower revs, making lag very noticeable.



While everyone wants to have a larger turbo than the next guy, you need to make sure you are being realistic with your goals. You do want to be able to drive it daily is a real question to ask.

Turbo engine manufacturers are always seeking a balance of power, drivability, and economy. This means turbos that spool up as fast as possible and hold good power to redline.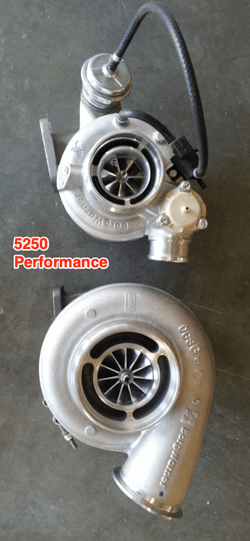 With modest goals of 200-300hp from a single turbo, it's possible to achieve spool under 2000rpm and make peak power at redline. But once we ask for 500+ hp from a turbo, spool will take significantly longer. It's not uncommon for modified turbo vehicles to not make full boost until 5500rpm or later.

While this does attain a very high power goal, it is not the best setup for the street. It is possible to change your driving style to keep the engine at higher revs, ready to make boost, but the vehicle will always be a dog from a dead stop. You can't use launch control every time you put it into gear.

As you plan your build, consider how the vehicle will react. Do you want a big power number just to brag, or do you want a vehicle that is fun to drive? Modifying your vehicle is not cheap, make sure you are getting what you actually want and is within your budget.