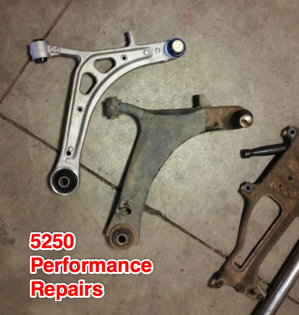 There are good and bad things to owning an older Subaru Legacy or Impreza. Once they hit the 10 year mark, their value has mostly settled and the aftermarket has fully developed replacement parts.
These parts are not all performance oriented though. Think about that before you start ordering online.

Take the example of 2005 through 2008 Subaru Legacy's and 2008 through 2014 Impreza's.
These models all share a common part in the front suspension. They all have the same Front Lower Control Arm Rear Bushing.
This bushing is what centers the control arm for proper wheel location and control. Subaru did a poor job designing this bushing. They know this! The STi gets a totally different bushing in this location. So, what do you do about it?

The issue is that the bushing has about 50% open space or 'slop'. This causes the rubber to tear. Once this happens, there is a significant amount of slop. Every time the front wheels hit a bump, crack, or are turned, the control arm moves around inside the bushing mounts.
This amount of free play effects the alignment of the front wheels. Owners of these vehicles may know this feeling as the car seems "floaty" and just not planted.
This is one of those areas where we can get two birds with one stone. The aftermarket replacement has come to the rescue with aluminum control arms.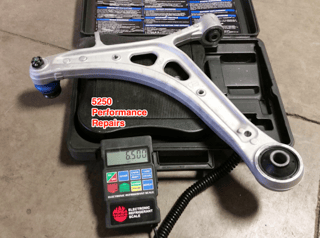 Back in 2008, if you wanted lightweight aluminum LCA's, you had to order them from a Legacy GT Spec B. Subaru wanted over $400 for just one! Now you can order a pair for less than $250 and they even come pre-loaded with front and rear bushings and a new ball joint. The rear bushing is even a better design than the Subaru one and won't fail in 12,000 miles.

If you really want that solid feel and telepathic steering, you'll want aftermarket performance bushings. These are made of solid polymer and are significantly stiffer than rubber versions. These will let you feel every seam in the concrete road. You'll be able to feel the tires break traction before you hear them squeal! Best of all, they will fit in both the aluminum and stock steel Lower Control Arms.

We have replaced many lower control arms that have worn out. With our quick installation time and warranty for the part and the installation, you can be reassured that your car will track straight with confidence.