At 5250 Performance, we split our time between two major customer groups. Street Performance and Race Cars.
The majority of our customers have street cars that we modify for power, handling and braking. For many of these customers, the look is just as important as the performance.
Our other group consists of real race cars. These vehicles are not street legal and are focused on all out performance. When it comes to the priority list, function is way higher than form.

We provide the best products to fit the needs of our customers and that is why we recently became a dealer for Penske Racing Shocks.

Penske is a US based company located in Reading, PA that manufactures shock absorbers for all sorts of vehicles and levels of performance. Penske started off by designing shocks for their own race cars with great success. Fairly quickly, other teams began asking them to build high performance shocks for their cars.

Before they knew it, they were designing and building shock absorbers for F1 race teams. They now design and build shocks for street cars, race cars, UTV's, and motorcycles. If you have wheels, they have a shock absorber for you.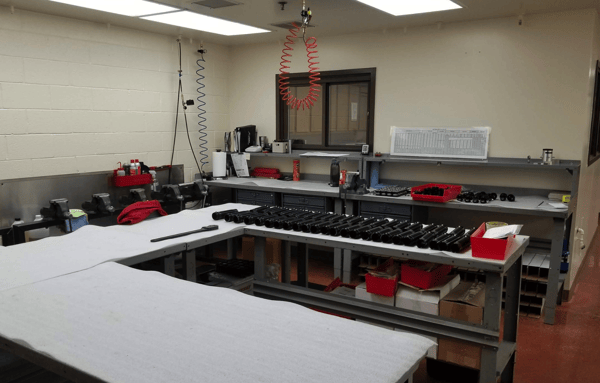 We recently sent them a set of Penske shock absorbers that were in desperate need of service after years of track use. We happened to be in Pennsylvania for other business and stopped by their headquarters in Reading to tour their facility and see how the repair process works. We were very impressed to say the least.

Penske does as much as they can in-house. For the processes they can't do on their own, they work with other local businesses. Everything about Penske is made in the USA. They have a large investment in CNC machining equipment so they can make most of the individual parts at their headquarters.

This includes the shock mounts, bodies, and shafts. This allows them to have a very high quality control process. Everything is built to very tight specifications. Every part built is measured and checked multiple times throughout the build process to make sure only the best performing components reach the end user.

Every part is serialized using a laser etching machine so parts can be traced back to manufacturing in case any issues are ever found.



They have work stations that are specific to their different product lines. This allows their technicians to focus on their specialties and not worry about accidently putting automotive parts on a shock meant for a motorcycle.

They even have a high pressure nitrogen distribution system so the technicians do not need to leave their bench to charge the shocks. Details like this lower productions times and raise the quality of work as the technician does not need to break their focus and move parts around the facility.

We were very impressed with their facility and their prompt service. They received the shocks we sent them on Wednesday and they were repaired and ready to be shipped back when we toured the facility on Friday. They found that one of our shock bodies was damaged and had the replacement part in stock. It became a non-issue. This is a huge advantage over other shock companies based in Europe and Asia. It can take weeks or even months to get parts from some of the other guys.

If you want the best performing shocks, get Penske. Contact us and we can help you find the right shock package for your vehicle and driving style. If winning and improving your driving experience is on your agenda, getting the right shock gets your tires planted, increasing traction.