Squeaky Clutch Firewall Repair | There's a lot of Subaru's out there on the road and I continue to see the same issues day after day.
One of the more expensive common issues is that 2008 through 2014 Impreza based vehicles have some spot welds from the factory that fail.
These welds are on the firewall that attach the bracket that the pedal assembly bolts against to the body of the vehicle. I've seen the issue on one or two non-turbo Imprezas, as well as over a hundred WRX's, and a handful of STi's.

Over the last several years, 5250 Performance has developed a process for repairing these failed welds that is strong and sturdy. We have not had a single repaired weld fail again. This cannot be said for the repair job performed by many Subaru dealerships.
We have had several vehicles come to us after they have already been "fixed" by a dealership at a cost to the vehicle owner of $1500 or more.
The dealership also had their vehicle off the road for almost 2 weeks.
Our repair process takes only a full day to complete and is at a significantly lower price than what the dealership charges. This is such a widespread issue, it should be an extended warranty issue with Subaru... but with their repair failure history, I wouldn't want them to try anyways.
We use stainless steel hardware and polyurethane sealant to provide a permanent, weatherproof solution that is stronger than the original factory welds.

If you think your vehicle might be affected by this issue, you should contact us right away. The longer you operate the vehicle with failed spot welds, the more likely secondary damage will occur.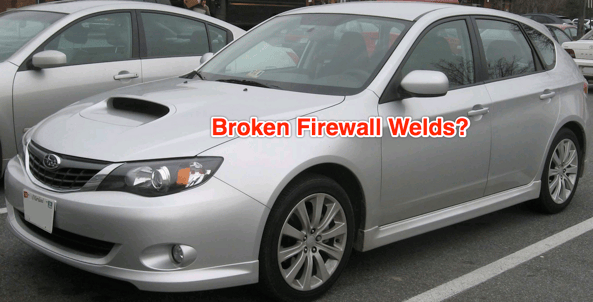 If driven too long with failed spot welds, the clutch itself will fail prematurely. The repair of the spot welds and a clutch replacement are totally separate jobs which will add up to a significant expense.

The most common symptoms of failed welds are a squeaking noise and sideways movement of the brake pedal when the clutch pedal is depressed.
Difficult shifting and grinding are common when most of the 7 welds have failed. Avoiding this repair will yield high wear on clutch / transmission, we have seen this happen and it becomes quite costly at this point.

If you are unsure if your welds are failing or have failed, contact us or stop by the shop. We can verify the issue and discuss repair options with you.