Getting your car tuned shouldn't be with only one option
We at 5250 Performance have our own in-house tuner and other tuners to choose from, here you will find a list of tuners that are equipped with the proper education & experience to help you get your car tuned.
We make it easy, if you want to do a baseline before a tune, just call and set up an appt. If you are ready for a tune, fill out the form and we'll get you connected to the tuner of your choice.
In years past, shops had only one tuner, now we give you options. Use a tuner from this list or bring your own and be added to the list (that includes remote tuners too).
If you would like to be added as a tuner or know of a tuner that is reputable and experienced, please fill out the form here on the right and we will contact you for specifics to get you added to this list.

Click on the names below for more information, when you want to find out more, please fill out the form on the right, we will connect you with the tuner of your choice.
[fa icon="plus-square"]
5250 Performance Shop Longmont, Colorado
in-house tuner for 5250 Performance.
Turbo V8 gasoline cars & trucks
Turbo Subaru / Import cars
Rotary engine, NA & turbos
Non-Turbo trucks & cars
Race cars
Our shop comes with experience in add ons to custom builds over 2000 hp. Stop by our shop and have a talk about your tuning needs.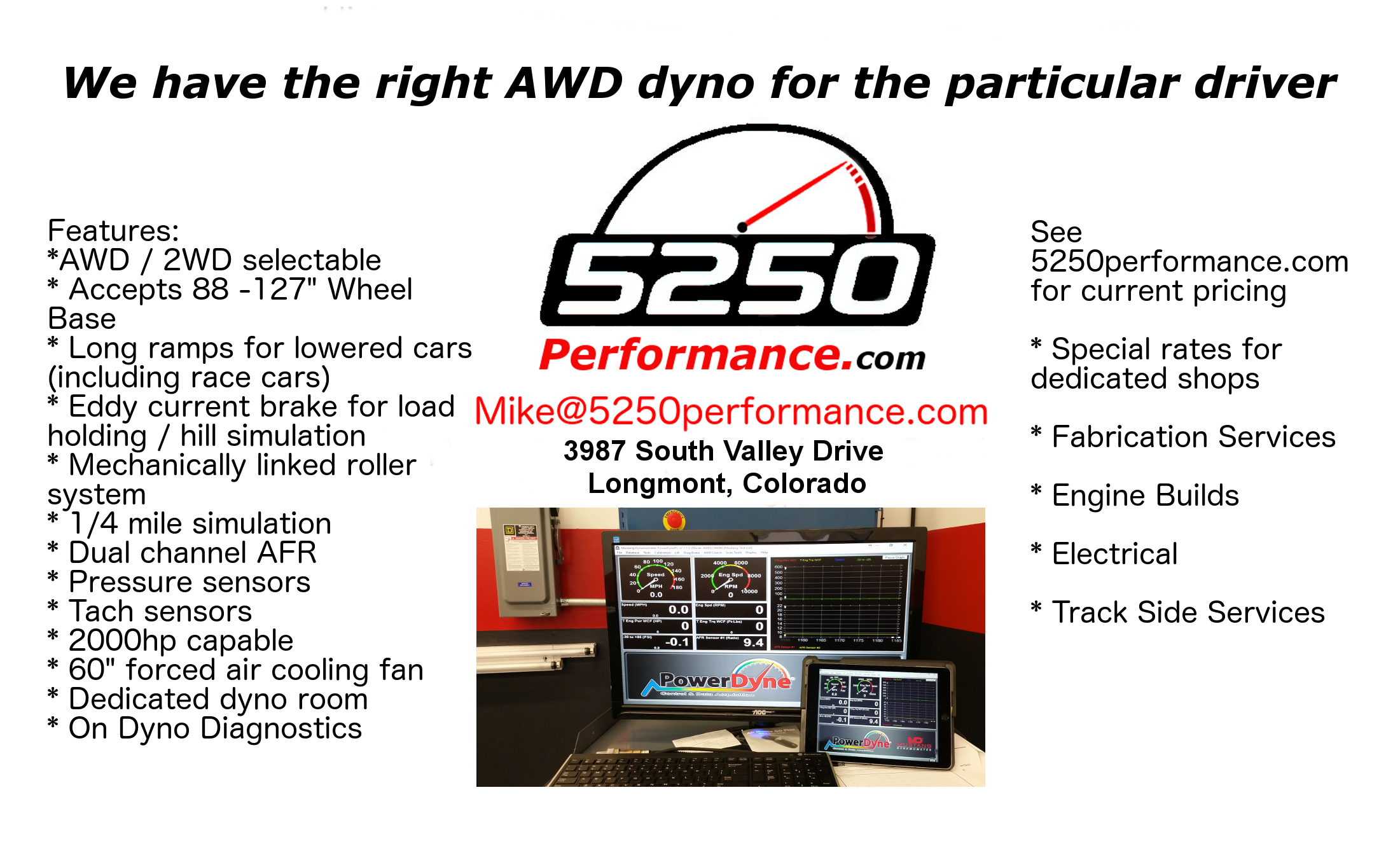 [fa icon="plus-square"]
James Hudson
On-Site and Remote Tuners: We are Cobb approved to tune Subaru,Mitsubishi, and Ford Eco Boost.
We can tune open source as well for Mitsubishi and Subaru platforms.
Other systems we can tune are Haltech, AEM, Autronic.
We can tune Saab as well (we do have the flex fuel file and can perform the unlock SID function). Open source for T-5 T-7 and T-8 systems.
We are willing to tune at 5250 Performance in Longmont, CO. We tune Rocky Mountain Auto Sports Rally Car ! There rally car just won Oregon Trail Rally in Rally America. Rock Mountain Auto sports is off to a great 2016 season.
We are proud to tune their car and help them win races. We are Currently tying to get approved and trained on Volkswagen through Cobb.
We can remote tune as well on selected platforms. Years of experience 3 plus years.
Not only do we tune for performance but we tune for driveability as well. We are known for smooth performance tuning. Not the on/off switch performance tunes.
I love tuning because after I tune a customers car and see the smile on there face afterwords is awesome !
[fa icon="plus-square"]
IA performance
Steven works remotely as well as onsite at 5250 Peformance. Cobb (Subaru), Open Source (Subaru).

[fa icon="plus-square"]
PFI Speed
Tuning On-Site, we tune All OEM and stand alone EFI systems, They specialize in Honda / Acura.