In Colorado, on road vehicles have to pass an emission test or they can't be registered.
Depending on the year of the vehicle and if you are the original owner or not, determines the standards of the test. Most new cars are exempt for as many as 10 years. So, what if you have modified your vehicle, it makes awesome power, yet can't pass emissions testing?

Model year 2000 and newer vehicles have strict standards to pass the test. 1999 and older are allowed higher emissions with the standards being less and less as the years go on. By 1981 and older, only a simple idle test is required.

The newer cars are the harder ones to get through emissions the more modified they become. At the same time, they can also be the easiest to pass. Recently the state of Colorado decided to allow polling of the car's OBD system to pass the vehicle. In cars 8 years and newer, they will skip the rolling sniffer test if the OBD system thinks the car is running properly. A properly tuned vehicle on a stock ECU should always report that the car is running properly.
But, what about when the car fails?
A failure can be caused by something as simple as an air leak, or as complex as a bad tune. The standards are strict enough to that no car will pass without a catalytic converter and a standard race cat won't cut it anymore.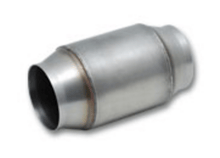 There is a solution! About 5 years ago a new race cat came on the market that had quite a few qualities perfect for our modified cars. The most notable quality is that these cats are EPA Certified and pass the Colorado emissions test with flying colors.

They do this while not restricting power and have a operating temperature that is 200 degrees higher than standard "race" cats.
We have used these cats on our personal and our customer cars for the last 5 years on engines up to 900 horsepower.
With our custom stainless welding capabilities, we can add a custom cat to your existing exhaust system (OEM or High Performance). Passing emissions is a real problem for some vehicles, we only use high quality parts and solid welding procedures. Get it right and it will pass emissions.